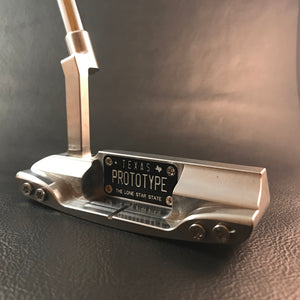 PERSONALIZED PLATES
Exciter
Fenixxx
#fussellfinite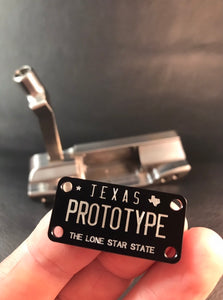 FUSSELL "LICENSE II STEEL" PUTTER
The FUSSELL "LICENSE II STEEL" Putter is mostly inspired by the iconic original PING® Anser® putter designed and made famous by Karsten Solheim approximately 50 years ago. That "dale-head" design is now well in the public domain, and virtually every manufacturer and maker have one or more models patterned after it.

The FUSSELL "License II Steel" Putter integrates modern technology and aesthetics into that classic shape. These features include an impressive combination of industry firsts backed by multiple Patents. These include adjustable weighting options in the heel and toe and in the cavity directly behind the face and the VMG Face Grooves cut the width of a Golf Ball @ 1.680"

Fussell met head-on with Dave Billings to license his patented Interchangeable Modular Hosel technologies allowing the golfer to select and adjust the neck style, length, offset, lie angle, and putter head balance, which are adjustable when using the Delta Mod Adjuster system, another industry first.

The most striking feature of this new Fussell offering is the blatant 1″ X 2″ cavity located back and center of the head. Fussell combines perfectly, the amalgamation of branding, customization, and identity, in the form of a CNC-milled miniature vanity plate, made to order upon request. It includes all 50 North American states. Fussell re-engineered the standard irregularly shaped back cavity into standard Vehicle registration plates of the United States license plate dimensions of 6″ X 12″ and shrunk down to 1″ X 2″ metal canvas. This allows customers to choose their preferred U.S. State and alphanumeric characters.

The FUSSELL "License II Steel" Milled Putter raises the bar further with the finest carbon, stainless, Damascus, Mokume, Copper, Brass, and Bronze materials."

Pick your favorite combination of materials and order your Ultimate Custom FUSSELL Putter today!

*Ping and Anser are registered trademarks of Karsten Mfg. Corp.